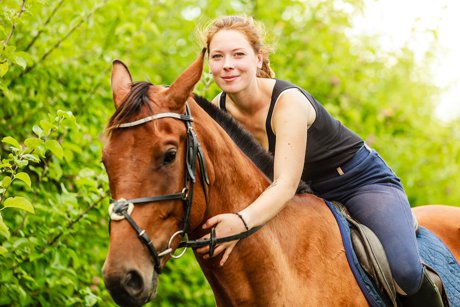 Ponder life in paradise on horseback. Oahu Horseback Rides takes lucky souls alongside gorgeous scenery on North Shore property and beyond. Lush landscapes meet up to oceanfront trails perfect for trotting or cantering through. Horses are a blend of gentle and spirited. A professional team evenly matches animals to their riders. A variety of trips are designed to suit individual needs.
Sunshine rides take advantage of lovely Hawaiian days. Riding up close to the water's edge folks may get a glimpse of sea turtles, dolphins or other amazing aquatic animals in the waves along the beautiful beaches of North Shore property. A sunset ride is the ideal way to wind down the day. Romantic moments are frequently inspired by brilliant shades of pinks, purples and blues blending together and melting into the sea. Private rides are perfect for those seeking some alone time. Great for couples or small groups wanting time to themselves, private rides are available for two or more patrons. All rides last about an hour to an hour and a half. Guests should arrive thirty minutes prior to scheduled ride times. Closed toe shoes are strongly recommended. Children as young as eight years old can mount up making this a wonderful family friendly activity.
Learn the "Sport of Kings" when Living in North Shore
Residents living in North Shore can learn to play polo like a pro with Oahu Horseback Rides. Active polo ponies are enthusiastic about their sport. Trainers are devoted too and experts on the "sport of kings". Participants with little riding experience can saddle up and become impressive polo players in no time. After a lesson or two many become hooked, fall in love with polo and become inspiring members of the Hawaii Polo Club.
Awarded a TripAdvisor Certificate of Excellence, Oahu Horseback Rides is the only Oahu company to take the trails straight to the beach. Picture perfect memories are constantly in the making. And, friendly trail guides willingly commemorate occasions by capturing moments on film when requested. Reservations can be made online or by calling 808.220.5153 for more information. Seize the day and spent the ultimate hour in paradise. Don't let the magic of life pass you by.